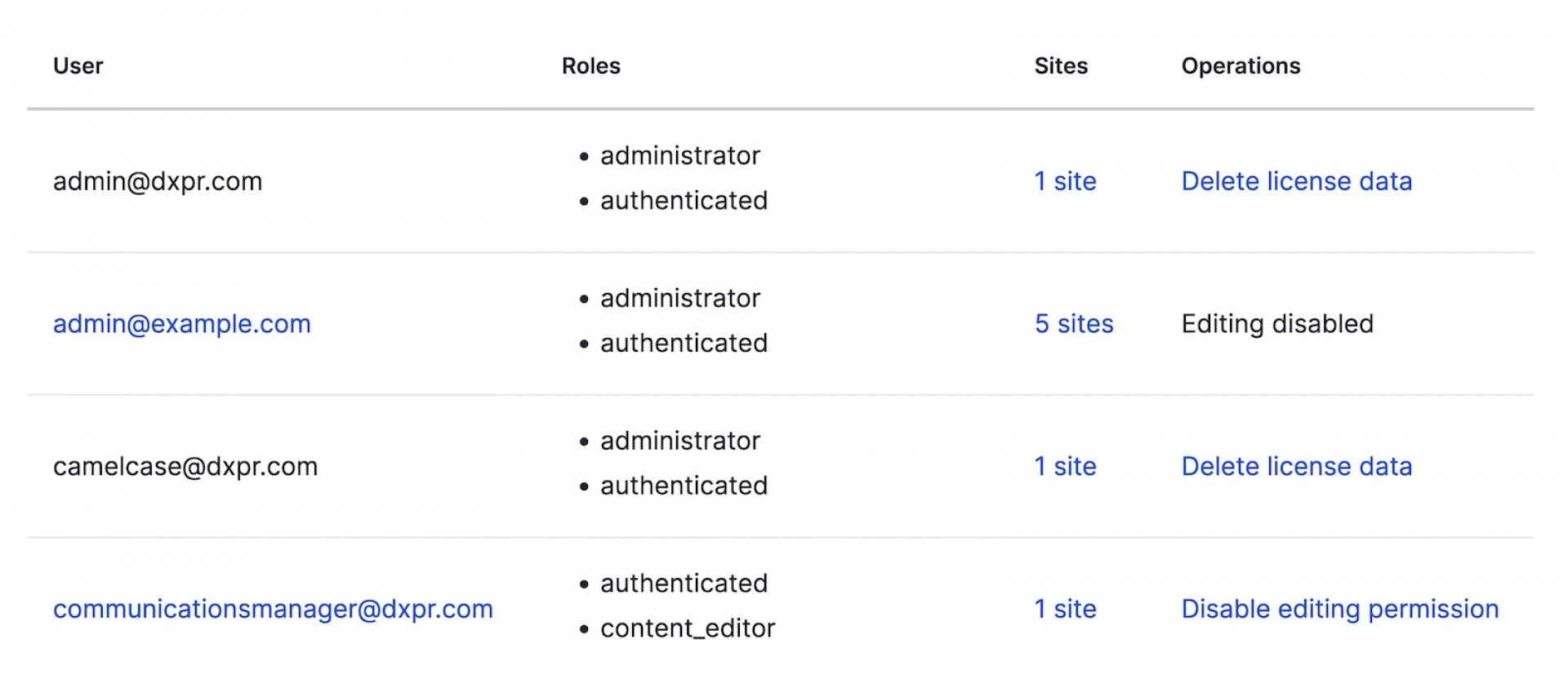 Important License Management & Page Building Updates - DXPR Builder 2.4.0
It's an exciting time here at DXPR! With the release of DXPR Builder 2.4.0, we're underscoring our dedication to refining user experience based on the feedback from our esteemed community.
Easier User License Management
The User License Dashboard in DXPR Builder 2.4.0 has been revamped with two transformative features:
Selective User Exclusion: This newly-introduced feature allows users to exclude specific individuals from DXPR Builder editing. It's particularly valuable when you want to exempt admin accounts from being counted as billable users.
Stale Data Purging: Keeping your dashboard tidy is now a breeze! With the added ability to delete outdated user data from different environments, you can maintain a clutter-free workspace with ease.
Site Builders, We Heard You!
Our site builders will find joy in the updated process of page template creation. Extracting page templates from user templates has never been more streamlined. A more efficient workflow means you spend less time setting up and more time bringing your visions to life.
An Elevated Experience for Content Editors
To our content architects and editors, we've boosted the drag-and-drop functionality. Whether you're placing elements in tight confines or navigating between sections, the experience is smoother than ever. Plus, we've ensured that the dropdown UI for breakpoint selection in Bootstrap 5 utilizes the radio widget, bringing added clarity to your editing process.
And More...
Container reminders have been tweaked to auto-hide after 5 saves, minimizing unnecessary interruptions.
We've rectified various bugs, ranging from profile editing challenges to script behavior inconsistencies, ensuring your experience with DXPR Builder is as seamless as ever.
One Quick Reminder: As you delve into the 2.4.0 update, please ensure to run drush updb or update.php due to a database schema adjustment.
For a comprehensive list of updates and enhancements, please refer to the official release notes on Drupal.org.
Our evolution in enhancing DXPR is driven by our collaboration with users like you. We're proud of the innovations in DXPR Builder 2.4.0 and are keen to learn about your experiences. Together, let's shape the future of DXPR!
Category
Author