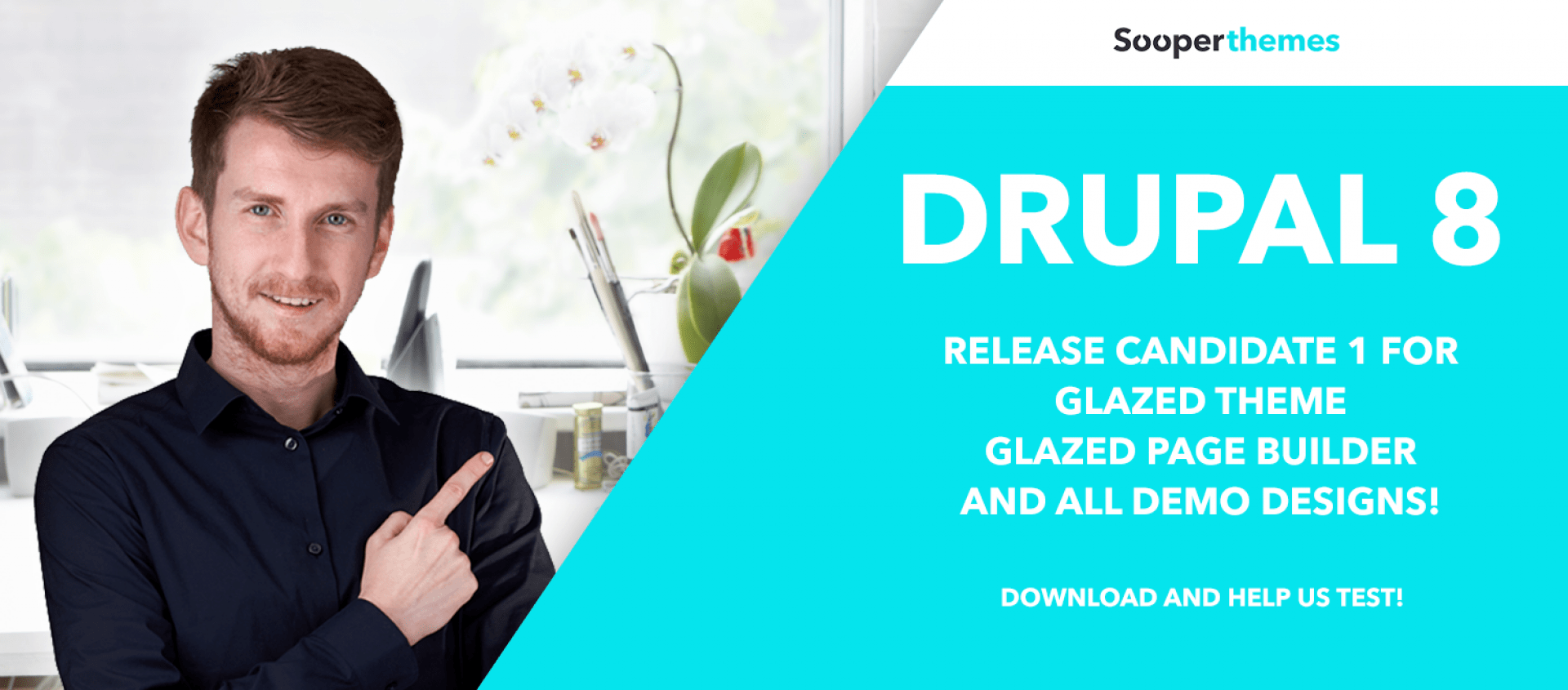 Drupal 8 Release Candidate For All Products and Demos!
Drupal 8 Sooperthemes: After nearly a year of work we're almost there!
It has taken us twice as long as we originally estimated. Drupal 8 itself has had its delays so maybe there is no surprise that updating our complex Drupal 7 theming and drag & drop platform with 15 unique theme designs and 1000+ demo content items is delayed. We now have a feature-complete stable version or Release Candidate for all our products ready for you to test! Besides that, we just moved to a new server that has all the infrastructure upgrades in place for our Drupal 8 launch.
Migrating 15 Demos With 1000+ Content Items
The past 6 weeks have been spent mostly on migrating all demo content and designs to the Drupal 8 framework. This work mostly consisted of copying, manually testing, and re-exporting pages, images, menu links, configuration etc. The glorious result of this painstaking work can be seen here: https://demo.sooperthemes.com/
Can I start using this on production?
Not just yet, we recommend to hold off for the stable release before taking this puppy to production! However, the RC1 will be easy to upgrade to the upcoming stable release so I suggest you can start building your Drupal 8 project using our theme or builder, report any issues on our support forum, and launch it when we launch our stable release.
Having spent the last year just coding away at the Drupal 8 product line I now have to quickly put on my documentation and marketing hat and start churning out content and documentation updates for the website. We will spend the coming 2-3 weeks to update our website and then immediately put out a stable release for all products.
What's Next?
Of course we won't get bored after completing this monumental update. To Sooperthemes the D8 release is a major milestone that brings us to the next chapter in the life cycle of our business. After the Drupal 8 release we will start paying a lot more attention to documentation, customer support, and marketing. We're excited to now have a product that exceeds everyone's expectations both in capability and now compatibility. We're going to keep developing our products, and also work on making ourselves more known inside and outside the Drupal community. 
Get Testing!
If you're already on board with Sooperthemes.com you now have access to all Drupal 8 downloads in the Downloads page. If you want to help testing, or if you just want to get started with your Drupal 8 project head on over!
Open Source Contributions
Now that we have our core business covered with our Drupal 8 products, we're going to continue making live easier for the Drupal community at large with our awesome free theme and module contributions. We want to make the free version of our theme the best Drupal 8 and 7 theme on Drupal.org. Of course our premium theme will retain some features that will remain exclusive to our patrons but even if we slice the feature count in half we probably still have the most loaded, flexible theme on drupal.org. Since our free Glazed theme is also the default theme for our Glazed CMS Drupal distribution, we also intend on having the best looking distribution our on Drupal.org. Stay tuned for updates!