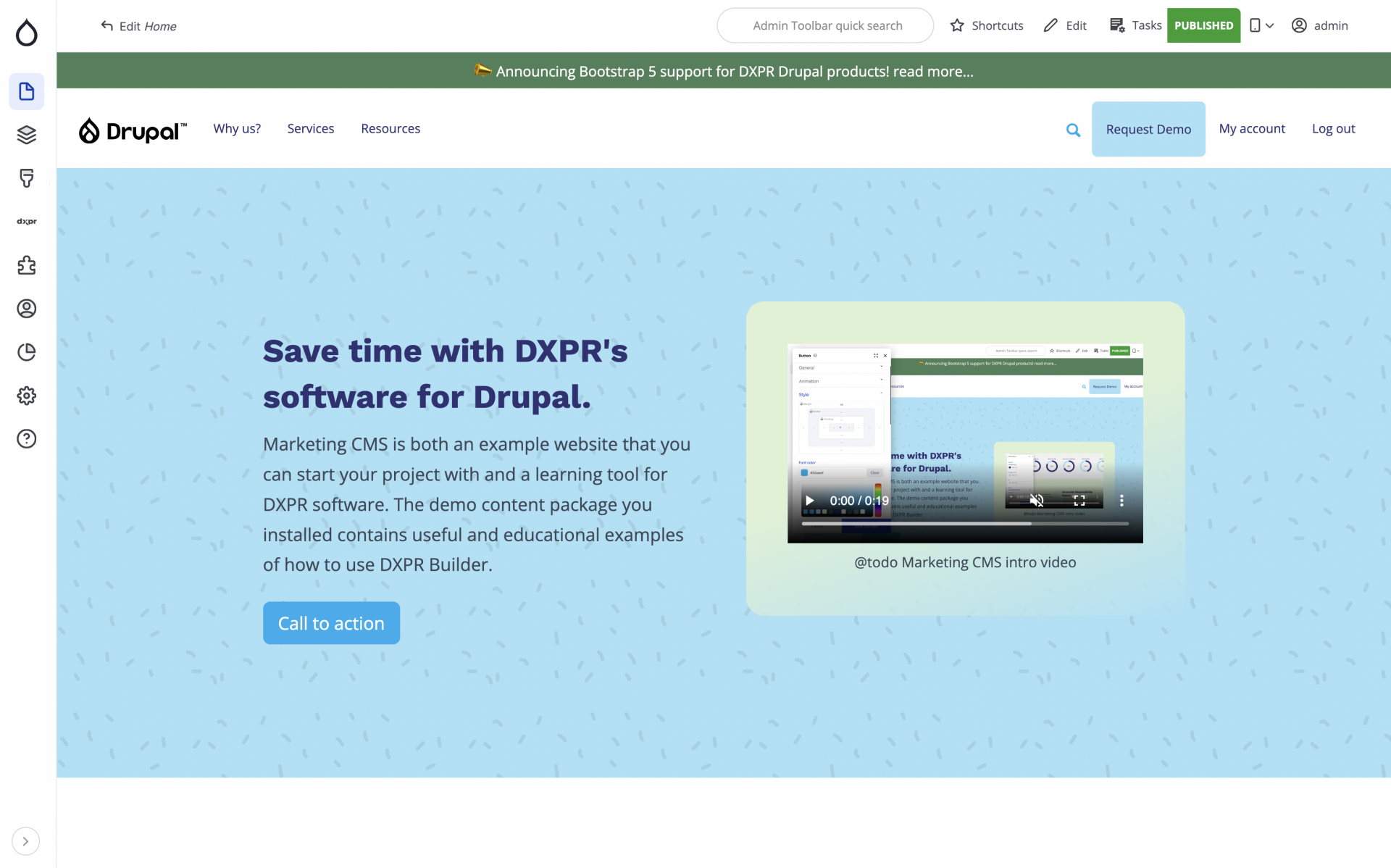 Wow your Drupal editors with DXPR Marketing CMS, now on Drupal 10 and Bootstrap 5!
First of all congratulations to everyone on the release of Drupal 10! It's an incredible milestone. Drupal 10 ships with significant improvements without asking for a lot of work to do the upgrade. A big thank you from DXPR to everyone who contributed to Drupal 10!
Today DXPR releases our Drupal 10 compatible Drupal page builder and low-code Drupal theme. You can enjoy these with our new Drupal 10 distribution, designed to impress just about anyone whether they are site builders, developers, or content editors.
Video tour of DXPR Marketing CMS
New Drupal 10 distribution:
Marketing CMS
DXPR's demo sites used to be based on Acquia Lightning. This Drupal distribution has been great but met the end of its life a year ago. We learned a ton from working with this distribution, and we realized that we don't want to depend on other companies' distributions anymore, so we created Marketing CMS.
As the name suggests Marketing CMS is a Drupal distribution that takes special care of the needs of digital marketers, communications staff, and other content editors.
Marketing CMS sets up Drupal 10 with DXPR Builder and DXPR Theme complete with content types, drag and drop blocks, media library integration, and 3 user profiles to provide simple DXPR Builder interfaces to different user roles. We also ship the distro with modern UX solutions like responsive preview and admin toolbar searching (see video above). 
Watch the above video for a quick 6-minute tour!
If you're more inclined to just play around you can use our online demo that lets you try Marketing CMS with the 3 different user profiles we created.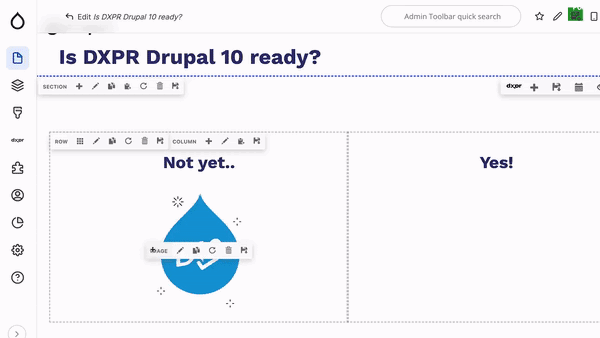 Launch with Drupal 10
Our team worked around the clock for you to enjoy a brand new Drupal 10, seamlessly integrated with DXPR's no-code page builder and low-code theme. We accomplished this while simultaneously working on Bootstrap 5 support, and releasing a brand new Drupal distribution powered by Drupal 10!
Because Drupal 10 has been a moving target with some deprecations being implemented late while others got postponed, we're extra proud to deliver this complete Drupal 10 platform the same day Drupal 10 is released.
DXPR Builder + Bootstrap 5
DXPR Builder is built on the Bootstrap framework. Today you can start building your DXPR website with Bootstrap 5.2, which offers modernized widgets and better performance. Take a look at some of the improvements:
Bootstrap 5 Collapsibles
More device breakpoints with Bootstrap 5 layouts
DXPR Theme + Bootstrap 5
Our low-code Drupal theme "DXPR Theme" also gets a Bootstrap 5 update. This latest iteration of our free open-source theme lets you design your website to match your organization's branding, without needing any code.
For more sophisticated theming work you can sub-theme DXPR Theme and create custom components, or a unique menu design.
DXPR + Gin Ecosystem
Drupal 10 comes standard with the Claro admin theme. In DXPR Marketing CMS we chose to use the Gin admin theme, by the same designer as Claro theme. Gin takes Drupal's admin UI to the next level with a generally more modern and refined look and feel. It's the icing on the cake for our Marketing CMS platform.
Gin on Drupal 10
The admin demo is free, no card required!
Enjoy your modern Drupal
Going forward we feel like, for the first time, Drupal can be the coolest, most user-friendly CMS of the pack. WordPress, Adobe Experience Manager, and Sitecore don't look as modern as the DXPR + Gin + Drupal 10 combination. Want to see for yourself? You can try our online demo now!
Learn more:
Category
Author